Lingerie Fit Guide
Here at VENUS, we know your day begins and ends with a bra - make sure you find the right one. Because your bra is the start to all things style.
strapless and backless bras
The Must-have. Say goodbye to all visible straps! A strapless bra is one you will want to keep on hand at all times. This collection started from the iconic Venus Cupid bra and grew from there, giving you every backless, strapless solution a girl could need. All of these have molded cups giving you a great shape and support with levels of push-up, as well as plunging necklines. Additional multi-way straps ensure support under any garment, despite how different. All sticky bras can be used up to 50 times. The days of challenging wardrobes are gone!
WEAR HER WITH
Off the shoulder tops and backless dresses.
FIND YOUR FIT
Most adhesive bras are available in sizes A-DD, and most strapless bras are available in sizes 34B-38DD.
bralettes
The new girl to the bra club. Ideal for those days of low maintenance and free of any lingerie malfunctions. The Bralette offers a little bit more style than others as they are great peek-a-boo pieces when you need more coverage underneath. These unstructured beauties will never have an underwire and may sometimes have pads, but they are almost always removable. Show off lace details to add a hint of sexiness, while stretchable fabric offers comfort and support. Finally a bra you are not ready to take off at the end of the day!
WEAR HER WITH
Sheer shirt or loose fitted tank tops.
FIND YOUR FIT
Most are available in sizes S-XL.
push-up bras
The Queen of bras! Every now and then, or maybe all the time, you want a little lift. Don't worry - we won't judge you! Whatever you desire, the push-up is made to give you that enhancement you are looking for. With additional padding starting at the bottom of the cup, this bra is not so subtle. Cleavage here you come! Our cleavage-enhancing padding levels range from 1 to 4. 1 being a little boost and 4 adding an entire cup size. Guaranteed to make you extra kissable with a sexy lift of push-up! Your curve-hugging styles will thank you!
WEAR HER WITH
Plunging LBD.
FIND YOUR FIT
Most are available in sizes 34B-38DD.
unlined bras
The Lover. Subtly sexy and very romantic at times, they offer a sheer, lace panel to support you. The fabric is still sewn in a very specific way to still give you gorgeous lift and shape with soft-cups and light weight design. Without all the extra bulk, the unlined bra is a great companion. These bras are like the Saturday of all bras - and we love Saturdays!
WEAR HER WITH
Light and airy clothes.
FIND YOUR FIT
Most are available in sizes 32C-38DDD.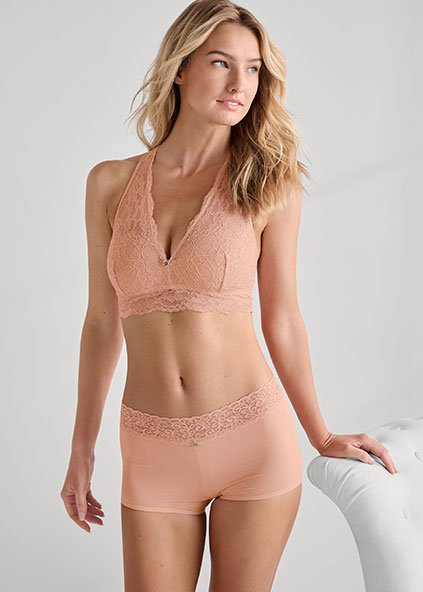 perfect coverage bras
The Staple. A priority in your top drawer! These are a necessity in all neutrals. Lightly lined, but molded cups give you your desired shape and yet are still super comfy to wear all day long. Think of these as the happy medium between bralettes and push-up bras. They will always have an underwire and a molded cup that provides full coverage, but no additional push. We know the work week is rough and can sometimes be never-ending, the perfect coverage bra is there for you.
WEAR HER WITH
Favorite tee!
FIND YOUR FIT
Most are available in sizes 34B-38DD.
HOW TO KNOW WHEN YOU'VE FOUND A PERFECT BRA FIT?
A bra that fits properly will support you comfortably, never pinching or showing signs of gaps. The right support can be seen in the cups. Are you spilling out? Are the straps doing all of the work? The perfect bra fit guide comes from knowing exactly what cup size you are and ensuring your comfort level.
BRA FIT CHECKLIST
Start with the center part of your chest. Does the center feel flat with no gaps? Is your underwire sitting firmly under your breast? If the answer is yes, then the fit is just right.
CUPS
If your cups are wrinkly or baggy, you will need to go down a cup size. Any spillage will need to go up a cup size.
UNDERWIRE
Your underwire should fully encompass your bust. If you feel any poking, you will need to go up a cup size. If the wire is sitting away from your bust, please go down a cup size.
STRAPS
Try this simple test to ensure you have found your perfect fit. Put on your favorite Venus bra and drop the straps off of your shoulders, if the bra stays snug, you have found the perfect fit. Adjust straps to your comfort level.